Back To Our Services
Do you want to give your home a distinctive character? A custom designed wrought iron gate is a wonderful way to add a unique flair to your landscape. Wrought iron is a very tough material that can hold up over many years in any climate, but is still remarkably flexible and easy to work with. It can be bent and welded into any design you can imagine, giving you the chance to show off your artistic side. Do you prefer straight, simple pickets or something more ornate? You can also choose from a variety of prefabricated decorative component to accent your design, including classic fleur de lis spikes, geometric elements, or decorative scroll-work. Craft a look that is all your own.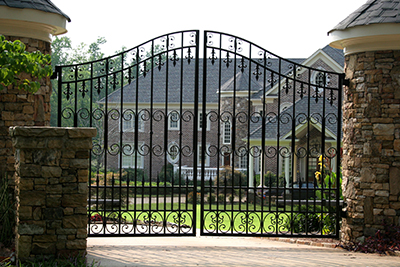 Be sure to choose an experienced fabricator who will work with you on every step of the process, with the knowledge to let you know what works and what doesn't. Consider the setting of your home and how you would like the gate to be situated on your property. Would you like a sliding or swing gate? How about a gate remote or a phone entry system? There are many different options to weight during the process of designing and installing a gate. It is essential to find someone who can guide you along the way.
Fabricating and Welding Wrought Iron Gates
Not sure how to get started with your residential gate installation? "Gate Repair Buena Park" has years of experience and a pool of satisfied clients to support the fact that they are the right choice to facilitate your project. Whatever the vision is that you have in mind, we can help turn it into reality. Not sure if any building codes or required permits will interfere with your design? We will send a team of experts to visit the job site, give a quote, and measure out exactly what will be necessary for your project. If you are thinking about going electric, we've got that covered too. We specialize in the installation of intercoms and residential gate openers.
Once you have the perfect gate designed and installed, you can entrust Gate Repair Buena Park with the maintenance and upkeep of your gate. Our team of driveway gate service experts can repair any issue that arises. Whether you have electrical issues, wear from the elements, or worn hinges, we will take care of it quickly and effectively.
Call us today to schedule an appointment and browse our website to learn more about our services.
Back To Our Services